Real Estate Consultant | Juli Clifford
Juli Clifford
8133 Leesburg Pike
Suite 800
Vienna, VA 22182
Email Phone: 703.980.0243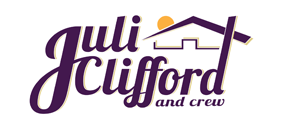 About Juli
On a more personal note, I am married to Kyle Clifford who owns and operates Reliable Hauling and Services while also serving as our Buyer's Agent. We live in Arlington, VA with our two adopted Bichon Frise, Romeo and Chloe. We are also involved with animal rescue-specifically Bichon Frise rescue and we have fostered 15 dogs since 2010. I'm currently serving as co-chair for our annual fundraiser, the Bichon Bash which helps to raise funds to vet and foster dogs that come into our care. I am past Vice President on the Board of Directors at the Main Street Child Development Center in Fairfax, VA. Main Street Child is a nonprofit early learning center that provides quality, affordable childcare for working families primarily with limited income in Fairfax and surrounding areas. I'm proud to donate part of our commission to the charities I'm passionate about.
Juli's Testimonials
"Juli helped our family buy and sell a home within a period of 2 years and she really pulled out all the stops to make it a pleasurable experience! Her relationships with a variety of service providers (repairmen, loan officers, etc...) ensured that we got great deals and results. We'll definitely look to her again when we decide to purchase another home in the area!"
Donovan C.
"This was my first experience at purchasing an investment property, and Juli has been a tremendous help and asset in guiding me throughout the entire process. . I hope to have the opportunity to work with her again in the future."
Dan R.
"I hired Juli to handle the sale of my home last spring and the experience from beginning to end was nothing short of exceptional. She and her team were detail oriented, responsive, and extremely knowledgeable. Her sales model for listing, marketing and staging my home was extremely effective and the sales price hit mark. I will work with no other agent in the Washington area other than Juli and her [...]
"Juli was great to work with. She was always there for us whenever we needed anything and was always mindful of what we were going through in the process. I would highly recommend her and would work with her again if at all possible."
Deb S.
"Juli was receptive and responsible throughout our home-buying experience. After we had a sit-down session with her so she could get an idea of what we were looking for in a home, we were extremely fortunate to find the house of our dreams the very next day! Our experience with her was very positive, and we would recommend her to future home-buyers."
Jesse and Urvi G.
"The best thing that happened to us was to bump into a couple of friends that highly recommended Juli. It has been very short and great to work with someone who knows her trade. Had a contract in 4 days and Juli worked very hard to make things happen. Thank you very much Juli Clifford" Dan R. Shindelbower, Friend and Client  
"Juli was great to work with and is an expert in the process of selling homes including pricing, staging, marketing, and closing. She was very responsive through out the entire process, and if you are thinking about selling your home, Juli should be on your short list of professional real estate agents to consider."
George Y.
"I have worked with other agents in VA and another state and Juli was the greatest to work with. I didn't ask around when I started my house hunt, instead I went online and carefully read the reviews and met Juli. My purchase was far from easy but Juli walked me through every problem with such professionalism and grace. I would definitely give Juli more than 5 stars!"
Rosa C.
Juli helped me find the ideal rental taking into consideration my exhaustive preferences. She is meticulous, detail oriented and a true professional. We shortlisted several properties and visited quite a few potential suitors; she negotiated on my behalf and placed my best interest above and beyond everything else. I would strongly recommend Juli for all your real estate needs.
Rashid Z.
"Juli is the best! I bought and sold houses through her and the process could not have been smoother. She does all of the little things necessary to make sure you have a good experience. She goes above and beyond what is expected of a realtor. You cannot go wrong with Juli!" Kirk [...]